FUT Hair Transplant in Delhi
About 80% of the male and 40% of the female population suffers from hair loss due to genetic, environmental, medical, or lifestyle factors at some point in time. Medical science has devised many techniques to grow the hair back on the head and restore the lost confidence in individuals who suffer from hair loss or balding. These techniques include oral medications, topical lotions, PRP, mesotherapy, and hair transplant techniques. Satya Hair Transplant is the best hair transplant clinic in Delhi, India offers FUT hair transplant in Delhi at a reasonable price.
What is Follicular Unit Transplant Technique (FUT)?
FUT is a hair transplant procedure in which we take out hair from the back of a patient's scalp & put it in the bald areas. The surgeon cuts a strip of skin from the back of your scalp; the gap is stitched using the trichophytic closure technique. This ensures a very fine scar in most patients which is visible only if you completely shave off your head. The strip is dissected under the microscope by our team of trained technicians & these individual follicular units are implanted in the recipient area by creating slits, taking care of the angles & density of hair in that particular portion.FUT Hair transplant in Delhi surgeries take anywhere between 4-8 hours. Local anesthesia numbs the scalp during the procedure.
Benefits of FUT Hair Transplant
It gives a natural look; this hair keeps growing & can be cut & styled like your own natural hair.

FUT hair transplant gives us grafts from the safest donor zone, unlike FUE where we have to go to an unsafe donor zone for higher yield.

Larger bald areas can be covered with a few sessions, as we get access to all the hair which are present in the strip, unlike FUE where we can just get one out of three.

Low resection rate that yields better results, as the grafts are dissected under the microscope, unlike FUE which is a blind procedure.

The FUT hair transplant procedure can be repeated twice or thrice depending upon the elasticity of the skin, which means we get access to almost all the hair which are present in the permanent donor zone, which is so useful in high-grade baldness cases.

The same numbers can never be achieved through FUE alone as we create gaps & bald spaces in FUE, unlike FUT.

FUT grafts have a higher survival rate as compared to FUE, as FUT grafts have better fat cushioning around them & are less prone to trauma & dehydration.

FUT surgery can be performed without shaving off the donor & helps to minimize the social downtime.
Who is an Ideal Candidate for the FUT Hair Transplant Procedure?
Men with androgenic alopecia are the best candidates for FUT hair transplant. A good candidate for FUT surgery is:
More than 25 years as loss pattern is less predictable in younger people
Men with the Norwood pattern or the M shape of hair loss tend to respond best to hair transplantation
FUT can be used to treat (receding hairline) as well as high-grade baldness.
Scarring alopecia because of injury, burns or skin diseases like lichen planus or pseudopelade can be treated with FUT.
Beard restoration & eyebrow restoration can be other indications of FUT.
FUT can be used to repair botched-up hair transplants (previous FUE or even FUT).
Long hair transplant is another type of FUT, where the social downtime is further minimized & long hair is implanted in the recipient sites.
Limitations of the FUT Hair Transplant procedure:
The surgeon should have proper training, experience, and expertise to do an FUT procedure.
Requires a larger team of trained technicians.
It requires a big set & infrastructure, which is expensive.
The downtime of the procedure is a little more as compared to an FUE surgery. You have to stay away from heavy workouts for a month at least & numbness can persist sometimes for months.
Potential side effects and precautions after FUT Hair Transplant
Complications after FUT are rare, as blood supply to the scalp allows the area to heal faster and avoid post-surgery infections. Potential complications include:
Unnatural-looking hair (If not performed properly, surgical error or inexperience)

Bumps or scarring (If not performed properly, surgical error or inexperience)

Inflammation of hair follicles (can happen for 1st few months because of ingrown hair or pseudo folliculitis, which is a harmless condition & recovers on its own)

Bleeding (is very rare but can happen at the recipient or donor site, mostly insignificant)

Swelling (usually seen around the eyes or forehead, is very rare these days with the advancement of anesthesia techniques & instrumentation)

Pain (usually for a few days, managed well with painkillers. Most people think that FUT hair transplant is more painful than FUE, which is not the case)

Numbness (usually stays for a few weeks but sometimes can persist for even a year)

Cysts
FUT Hair Transplant scarring
FUT hair treatment surgery leaves a scar at the donor site. The Scars may fade over time but are permanent. Although the scar is generally hidden by your hair, it may be visible if you keep your hair short. There is a special closure technique called Trichophytic closure, which leads to very minimal scarring. Hair grows through the scar tissue & even with very short hair the scar is not visible.
 If in some cases, the scar is visible, we can put some grafts by FUE hair transplant which can completely cover it, or do scalp micro-pigmentation to camouflage it. Many people think that the other technique FUE is completely scarless surgery, which is not the case as it is even more difficult to hide the scars of FUE as compared to FUT. 
Even in the long-term journey if someone thinks that he will shave off his head later on after a few years, can do very well with FUT, rather than a diffuse FUE throughout.
It happens when transplanted hair falls out within two months after surgery. The hair grows back within four months. This can happen in the recipient site as well as the donor site.
FUT surgery is a method of extracting hair follicles from your scalp and using it to cover your bald spots or receding hairline. The surgery is considered safe and is one of the best options for creating a natural-looking result.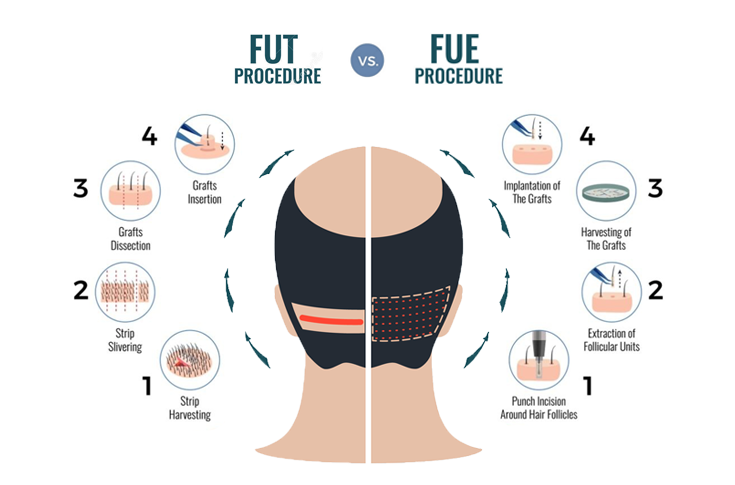 In follicular hair transplant, the permanent hair from the back and the sides is transplanted onto the bald area. The biggest advantage of this follicular hair transplant is that it allows transplantation of up to 5000 follicular units (through combination of FUT & FUE)in a single session (which has to be done on two consecutive days, in case of large numbers). Salient features of Satya technique of FUT
We use a special closure technique for stitching the donor site called Trichophytic closure. This is particularly helpful in creating a very fine scar line at the donor site & we see hairs growing through the scar tissue. So the biggest concern of the patient of having a big scar at the back of head in FUT is taken care of.
The strip is then dissected under magnification into follicular units containing 1, 2 or 3 follicles. The hairs are implanted in the bald area in pre made slits by fine needles under local anaesthesia. We take utmost care of the grafts at every step. Grafts are dissected under high end Japanese microscopes to avoid wastage.
Mega sessions: In a single session even 5000+ grafts can be implanted provided the donor area is dense enough to provide that many grafts. This is a big advantage as it saves patient's time & money & there is no need to go for multiple small sessions. Read More
FUT Hair Transplant Advantage
Follicular unit transplant is ideal for both men and women if they are facing hair loss problems in the following areas:
Receding hairline or hair loss in the front
Extensive loss of hair on the crown and top area
Receding hairline near the temple area
To add density to an area consisting of scanty hair
Scars found in beard, scalp or eyebrow due to injury or burn
Hair can also be transplanted in beard, moustache, eyebrow or eyelashes
Follicular Unit Transplantation (FUT)
FUT hair treatment in Delhi is becoming popular nowadays as people have started understanding the benefits of FUT treatment over FUE. FUT stands for follicular unit extraction. FUT hair treatment in Delhi is a very beneficial technique performed by only skilled and artistic surgeons as it requires proper surgical expertise to dissect the strip and then stitch it back again. In patients with higher grades of baldness, FUT is a basic necessity as a maximum number of grafts can be extracted using FUT without disturbing the donor density at the back. 
On the other part, if only FUE is done then the donor density gets reduced and empty spaces are seen from the donor scalp. While choosing FUT treatment in Delhi the patient experiences the following benefits:
Full head is not shaved off, so the social downtime is reduced and the patient can pursue his routine activities without wearing a cap.
A good number of grafts can be extracted, so an equivalent coverage is received
As the fat tissue surrounding the grafts is more, so more acceptability of the grafts.
In FUT, only the strip area is used so the remaining donor area remains untouched.
We do not administer the use of any particular technique for hair transplant as it depends upon the donor capability of the patient and which technique would be best in his case.
Why is Satya Hair Clinic the Best for FUT Hair Transplant in Delhi, India
Satya Hair Solutions offers an exceptional and premium approach to hair transplant technique known as FUT (Follicular Unit Transplantation). What sets Satya's FUT hair transplant in Delhi, India apart is its capacity to transplant up to 5,000 follicular units in a single session. This underscores Satya's status as the best FUT hair transplant clinic in Delhi, not only for FUT but also for a range of other cutting-edge hair treatments and techniques.
FUT hair transplant in Delhi, India is the preferred choice for patients with more extensive baldness. In a single session, FUT hair treatment in Delhi allows the removal of at least 2500 to 4,000 grafts. This stands in contrast to FUE, where donor density decreases.
Opting for FUT hair treatment offers several advantages. Hair isn't shaved during the procedure, a higher number of grafts can be extracted, there's a greater amount of tissue surrounding the graft, and the graft's acceptance rate is elevated. Importantly, FUT hair treatment in Delhi, India involves the utilization of only the donor strip, leaving the remainder of the donor area unaffected.
FUT Hair Transplant Cost in Delhi, India: An Expert Guide
Setting foot in the dazzling city of Delhi, you might wonder, "What is the average FUT hair transplant cost in Delhi, India?" As the city is a major hub for cosmetic procedures, it's a common question for those seeking to restore their locks to their former glory. An average FUT hair transplant cost in Delhi, India can range between 45,000 – 1,50,000 INR.
What is the FUT Hair Transplant cost in Delhi, India?
The FUT hair transplant cost in Delhi, India can vary based on factors like the extent of hair loss, chosen technique, clinic reputation, and medical team experience. For personalized cost estimates, contact us at +91-99995 70494. Our team will provide you with a comprehensive estimate tailored to your needs.
Unlocking the doors to your hair restoration Journey.
Meet our Experts to diagnose your hair loss and discuss treatments.
Explore our insightful blogs on hair loss transplant today!
Results that inspire and Transform
Frequently Asked Questions
Is fut hair transplant permanent?
A FUT (Follicular Unit Transplant) hair transplant is considered a permanent solution for hair loss. During a FUT procedure, hair follicles are surgically removed from a donor area, typically the back or sides of the scalp, and then transplanted into the bald or thinning areas. 
how long does fut hair transplant last?
The longevity of a FUT hair transplant can vary from person to person, and several factors can influence how long it lasts.
Is fut hair transplant painful?
A FUT (Follicular Unit Transplant) hair transplant can involve some discomfort and pain, but the level of pain experienced can vary from person to person. 
Is fut hair transplant safe?
The safety of a FUT hair transplant largely depends on several factors, including the qualifications and experience of the surgeon, the surgical facility, and the individual patient's health.